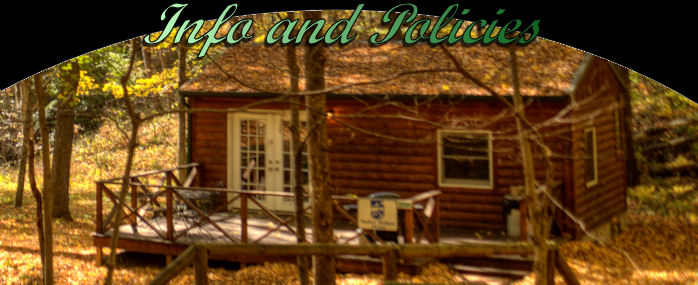 FREE WIFI IN ALL CABINS!
LOCATION  
  Springwood Cabins is located in the Heart of the Hocking Hills, just 2 miles from Old Man's Cave, Cedar Falls and Conkle's Hollow and only minutes from all other local attractions and restaurants.
FINDING YOUR WAY  
  The Hocking Hills region is one of the best kept secrets full of adventures ranging from stunning State and Federal Parks with incredible hiking for everyone, zip line, canoeing/kayaking, horseback riding, fishing, golf, train rides, atv rentals, rock repelling, shopping and local flea market and a variety of dining choices.  You will find a full color   Hocking Hills Visitors Guide in your cabin that includes a complete map and information on what there is to do.
PETS WELCOME  
  ALL of our Springwood cabins are pet friendly!  Just $45 covers the entire stay for all pets!  We want your pets to come, be safe and have a pampered experience while at Springwood Cabins!  We provide homemade pet treats, toys and water/food bowls for our Springwood Pets.  Maximum of 3 pets without prior approval from management. No size or weight restrictions apply.  We prefer that pets be crated when left alone in the cabin to provide familiar surrounds in a strange new environment and to ensure that there are no damages to the cabin.   We recommend that pets be on a leash when outdoors with you because of all the thrilling new smells, unique wildlife and other pet guests in this fun and new environment.    Pets are also more than welcome at all Hocking Hills State Parks as long as they are on a leash.  Please note that pets are not permitted in the Federal Nature Preserves such as Conkle's Hollow and Rock Bridge.
CABIN SUPPLIES  
  All of our cabins are completely furnished.  We provide all towels, hot tub towels and linens as well as paper towels, toilet paper, hand and dish soaps.  The kitchens are fully equipped with stove, refrigerator, microwave, toaster, Keurig coffee maker, coffee maker and include cookware, dishes, glasses, mugs, utensils, pots and pans.  All cabins have gas grills and we provide additional propane upon request.
OCCUPANCY  
  All rates are based on cabin maximum occupancy.  Additional guests over one year old are $20 per guest per night only with prior approval from management.
 

MAXIMUM OCCUPANCY  
All of our cabins have a maximum occupancy listed.  The maximum number of guests may exceed cabin limit only with prior approval from management.  Please contact 1-740-385-6143 to discuss your reservation needs.  Please NO VISITORS ALLOWED without prior approval of management.
CHECK-IN AND CHECK-OUT TIMES  
  Check-in is any time after 3 pm and check-out time is by 11 am.  NO EARLY CHECK-IN or LATE CHECK-OUT'S are allowed!    Please wash and return all dishes and place trash in proper receptacles before checking out.
HOT TUBS  
  All cabins have their own private hot tub.  Hot tubs are thoroughly cleaned prior to your arrival and are maintained during your stay for safety.  All guests must adhere to hot tub rules posted in their cabin.
WEEKENDS & HOLIDAYS  
  During this Covid19 period we require weeknight stays to be 3 nights and weekend stays to be 2 nights.  Holidays are charged at weekend rates and there may be a three night minimum required on certain holidays. 
SMOKING
  Smoking is NOT allowed inside the cabins.  You are allowed to smoke outside or on the decks and porches.  Please be safe and respectful of our properties and do not litter the area with your cigarette butts. 
FIRES  
  No outdoor fires allowed except in provided fire rings and all wood must fit within the fire ring!  NEVER leave fires unattended and ALWAYS extinguish them thoroughly when finished!! All cabins except The Rose have outdoor fire rings, guests staying at The Rose are invited to use the fire ring located at the pond during their stay.
FIREWOOD   
  Gathering firewood on the property, other than small starter sticks, is not permitted.  We partner with a 93 year old gentleman named Cecil that has created a firewood business with a honor system rack system set up on the driveway near Butterfly Trail.  There are also many local spots all along St Rt 664 that sell large bundles very reasonably.  Please help us protect our woods by NOT bringing firewood from outside of the area because of the threat from insects like the Emerald Ash Borer.
CELL PHONES/PHONES  
  All of the Springwood cabins are provided with telephones for your convenience and safety.  Please note that most cell phones will NOT have reception while in the area due to the hills and forest.  We will provide your cabin phone number with your confirmation to ensure that you can be reached during your staying with us.  Our cabin phones offer Free Long Distance and Free Local Calls! 
GROCERY STORES
  In Logan you will find a Super Wal-Mart at the intersection of Routes 33 and 664, and a Kroger by following Rt 664 past Walmart towards town and turn left at the intersection with CVS.  Grandma Faye's is a local deli/gift shop and grocery store that is located 1 mile south past Old Man's Cave.
HUNTING/FIREARMS/FIREWORKS/ATV's  
  Hunting, firearms, including paintball and air guns and fireworks are NOT permitted on our property.  You may bring your  ATV's to the property, but you cannot ride them on the property. (ATV trails available at The Wayne National Forest near Nelsonville and Hocking Hills Nature Trails in Logan).
SUGGESTED SUPPLIES 
  Don't forget bottled water, food, personal care items, prepaid phone cards for long distance, camera, binoculars, flashlight, DVD movies, insect repellent and specialty cooking pans if needed.  (FYI: our local well water is completely safe, but you may prefer bottled drinking water.)
SWIMMING
  Although swimming is not permitted in our pond there is swimming at the free beach at Lake Logan and there is also a beautiful in-ground pool at the Hocking Hills Lodge located just 2 miles from our cabins that is available for a small day fee.
FISHING  
  All guests are welcome to enjoy our private stocked acre pond.  Fish include small and large mouth bass, catfish and sunfish.  This is a catch and release private pond and no fishing license are required.  There is also great fishing in the area including Lake Logan, Rose Lake and Clear Creek Metro Park, but you will need a fishing license.  Bait is available at Grandma Faye's 1 mile past Old Man's Cave Park on St Rt 664 S and at Downs Bait Shop just before Lake Logan on Lake Logan Road.
BUGS AND PESTS    
  Our cabins are consistently treated for pests, however please remember that our cabins are located in the woods and you   may encounter the rare mouse or occasional bug.
WINTER WEATHER  
  Our cabins are open year round and winter is one of the most beautiful seasons in the Hocking Hills!  We are located just off St Rt 664 which are very well maintained and we will do our best to clear snow and ice from our driveway as quickly as possible, however in winter four-wheel drive is suggested. 
MINIMUM AGE  
  Guests must be 21 years old to reserve.  A parent or guardian must accompany anyone under 21.
PAYMENT, CANCELLATIONS, and REFUNDS  
  Full payment is required at the time of reservation.  We accept Visa, MasterCard and Discover.  Taxes are additional.    Cancellations more than 30 day prior to arrival will receive a full refund less 10% processing fee.  Cancellations between 14 days and 30 days prior to arrival will receive a 75% refund.  There is no refund for cancellations less than 14 days prior to arrival.  In the event of early departures, we cannot give any kind of refund.  There is no cancellation due to incumbent weather or park closures. 
DAMAGES  
  We reserve the right to charge your credit card for any damages from guests or pets, or excessive cleaning resulting from your stay. 
AMENITIES  
  We will do everything we can to make sure your cabin is ready for you by check-in time.  However there may be occasions when your cabin may not be fully ready when you arrive.  Due to cleaning and servicing, hot tubs are sometimes not up to full temperature at the time of check in and may need several hours to heat. Occasionally appliances, hot tubs,   fireplaces, etc… can malfunction.  We will service and restore these amenities as quickly as possible, but will not make any rental concession for time without items.  Likewise, loss of electricity, water, satellite TV, or other issues beyond our control will not result in a refund of any monies paid. 
Absolutely NO refunds will be made in the event guests are required to vacate the premises because of disruptive conduct, unpaid guests or failure to follow our rental guidelines and polices!!
Save